Your home speaks a lot about you. The way you decorate your home can leave an everlasting impression on people you know. So, it is very important how you choose to decorate your home. A beautiful exterior of a home is important, but what is more important than that is how you decorate your home on the interiors as well. Small and beautiful details not only add up to the charm of your home, but the decor details speak aloud about you.
While buying interior home decor elements for your home, you can always select products that match your personality. When someone come to visit your home, these home decor elements will leave an everlasting impression on them about the kind of person you are.
Home Decor Elements To Add Charm To Your Home
Talking about the home decor elements that you can keep in your home to add that personal charm, there's no end to the list. Some of the objects like trendy doormats, candle holders, storage box cum stools, printed tissue box holders, etc. can be the key elements to your home decor plan.
The problem with these trendy home decor items is that they are very difficult to find. You may have to hop from shops to malls, and your still would not be able to find the items that speak about you. Plus in this busy world, it is very hard to take out time to carry out shop hopping to find personalised home decor items.
So, what should one do? Yes, you guessed it right, look for home decor items online. You can easily find products online that will help you add personalised charm to your house. One such website with stunning and a variety of home decor items is IndianLily. IndianLily has a wide array of home decor products, and all of them are available in different styles and patterns.
Whether you are looking for storage box cum stools, candle holders, microfiber doormats, trendy doormats, patterned tissue box holders, or printed tissue box holders, you will find them all here.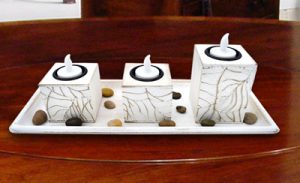 .
You will be surprised by the design and beauty of these home decor products.You can also find different types of racks, shelfs, and stands on IndianLily to add charm to your home.
All you need to do is visit the IndianLily website and go to the Home Decor section. Apart from home decor items, IndianLily also offers a lot of other decorative and utility items that you can add to your home. Ranging from Bathroom, Kitchen, and Organisers, you will find products here for your home that you never knew you actually needed.
Head to the IndianLily online store and give your home a personal touch.