Do you wish to possess a smartwatch? Right! this is often a decent plan. A smartwatch encompasses different types of features like a watch, camera, calculator, SD card, GPS navigation, touch screen, cell phone, and rechargeable battery.
The smartwatches are developed by Microsoft using the technology referred to as SPOT (Smart Personal Object Technology). we at Indian lily offer you a classy, trendy and technologically developed smartwatch, Dz09 Smartwatch. it comes out there with a display of superior touchscreen & is compatible with android or iPhone. It also has Bluetooth connectivity. 
we offer Dz09 smartwatch including a USB charging cable and user manual of Dz09 Smartwatch. you'll be able to get this smartwatch in colour like black.
The physical look of Dz09 Smartwatch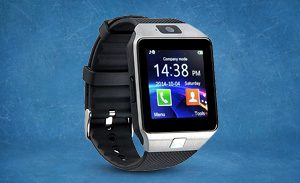 It has been nicely designed in a exceedingly sq. formed look attached with an adjustable strap which is advantageous to fit on any sized wrist. the sole home button is placed on the front part just below the display screen. It  has a micro USB port on the side including a rubber cap for the protection from water and dust. it has a removable back that helps to remove the battery and to change it when needed.
It is comprised of a plastic body within an aluminium case on the top to offer a sturdy and trendy look. It includes a beautiful display screen. Just by charging for two hours, you can get operate the smartwatch.
Under the hood of Dz09 Smartwatch
In spite of little in size, Dz09 smartwatch has  a small memory card & sim card slot. you'll be able to get the chance to send messages as well as do call and receive a call using your smartwatch. It includes a 0.3 MP camera to take photos which can be stored on the sd card.
• The Display:  Dz09 smartwatch is tiny in size, however it is easy to use and precise. The screen of Dz09 produces vital colors that are adequate  to detail to create a positive expertise when you use it.
• Sound quality: you can load your favourite music to the sd card and Dz09 smartwatch offers you good sound quality.
• Connectivity: Connecting Bluetooth and headset to your Dz09 smartwatch  is very easy, you can receive phone calls, hear music etc.Downloading the BT Notifier App to your smartphone, you'll be able to adjust your Dz09 smartwatch to your smartphone and get all the opportunities to call messages without taking out your phone.
Advantages of Dz09 smartwatch
There are several advantages for using Dz09 smartwatch and a few of those are as follows.
•  It is advantageous to access notification quickly. It helps you to check out a Facebook notification or scan a     message without taking out your mobile phone.
•  It provides a vibration  mode when someone texts or calls you. So, you may not miss your calls  when you're in a busy street or riding a bike. Moreover, looking at your smartwatch, you can instantly decide whether to attend the call or leave.
•  It will assist you to make the required adjustment to your sleeping time for better sleep.
•  Considering the screen size, you'll be able to relish an entire moving picture on your smartwatch.
•  It shows the map and has GPS enabled in it which helps you to travel conveniently.
So, Don't Think much and pick up Dz09 smartwatch as soon as possible. we at Indian lily is here to offer you an attractive Dz09 smartwatch at an affordable price, Hurry, Grab yours Now !